Music
The Marigolds
That's the State I'm In
For Your Love
Anyone Can Dream
When I'm Walking With You
Why Baby
Don't Let Your Thoughts Start Killing You
Not Giving Up
Sometimes I Think I Can Fly
May Your Life Be Ever Blessed
Ramble Down the Line
Trip to the Moon
Miss Wyoming
Someday I'll Thank You, Baby
A Little Bit of Heaven
That's the State I'm In
"Such beauty and pure brilliance doesn't come along often... five out of five stars."
- Maverick Magazine (UK roots magazine)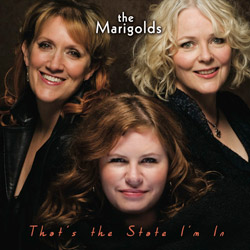 2009, Produced by Steve Dawson
Distributed by Outside Music
Buy on Itunes
The Marigolds
Till the End of the World
Little Black Dress
Heart Have Mercy
Father Adieu
Licence to Love You
The Hands That Rock Your Cradle
My Darlin' Cory Is Gone
I Don't Care to Try Love Again
Train Full of Tears
Inchworm
"Angelic harmonies and beautiful lyrics make this one outstanding release.  A must buy!"
- John Donabie, Toronto broadcaster
2005, Produced by the Marigolds and Nicolas Tjelios
Distributed by Outside Music
Buy on Itunes